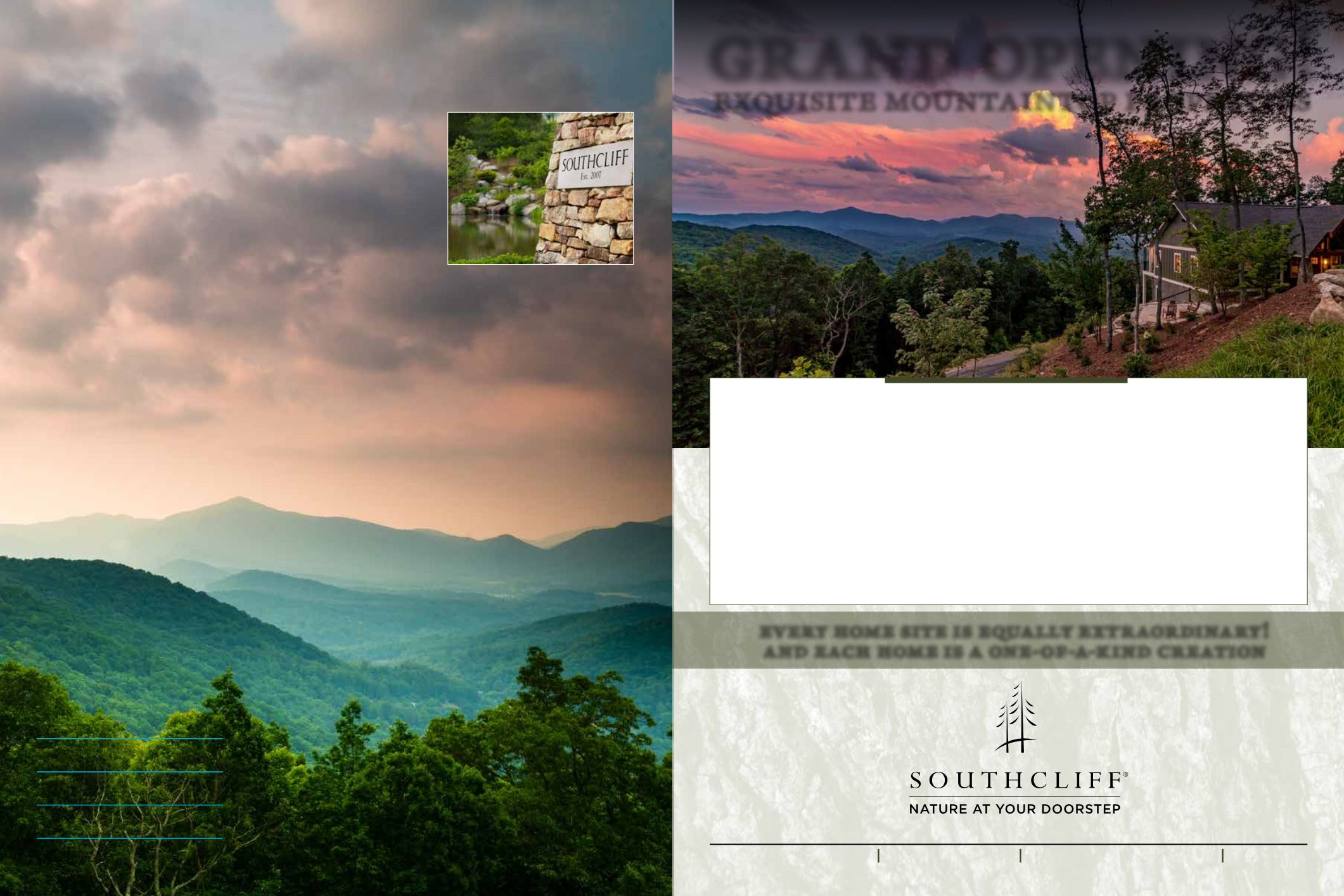 "We work closely with
our clients to provide
not only their dream
home, but also their
dream setting. Our
partners at Southcliff
help us to provide our
clients with not only
unmatched views,
but unmatched
convenience to
Asheville, all in a
luxurious gated
community that sets
the standard for quality
living in Asheville."
– Sean Sullivan, President,
Living Stone
Design + Build
[
The Neighborhood
]
exquisite mountaintop properties
Don't Miss This
Rare
Opportunity to
Own a Piece of Our Mountaintop!
We have a
limited
number of amazing properties that offer:
•
Breathtaking, panoramic mountain views
•
Privacy at an elevation above 3,000 feet
•
Exceptional team of builders
•
Proximity to Asheville, one of the fastest growing cities in the US
every home site is equally extraordinary!
and each home is a one-of-a-kind creation
10 SOUTHCL I F F PA R KWAY FA I RV I EW, NC 2 8 7 3 0 SOUTHCL I F FA SH E V I L L E . COM 8 6 6 - 8 4 4 - 0 6 6 0
Southcliff is a registered trademark of MF Southcliff, LLC. Southcliff is marketed exclusively by Beverly-Hanks and Associates, Asheville, NC. This is not intended to be an offer to sell, nor a solicitation
of offers to buy real estate in Southcliff by residents of CT, HI, ID, IL, NY, NJ, OR, PA, SC or in any other jurisdiction where prohibited by law. All prices and plans are subject to change without notice.
400 Acre Premier Gated
Mountain Community
10 Minutes from Downtown Asheville
175 Acres of Green Space
Over 6 Miles of Hiking Trails
Elevations over 3000 feet
COLLABORATIVELIVINGMAGAZINE.COM